June 2020 |
Design Inspiration
Winter warmer recipe - Annetha's Family Chicken Pie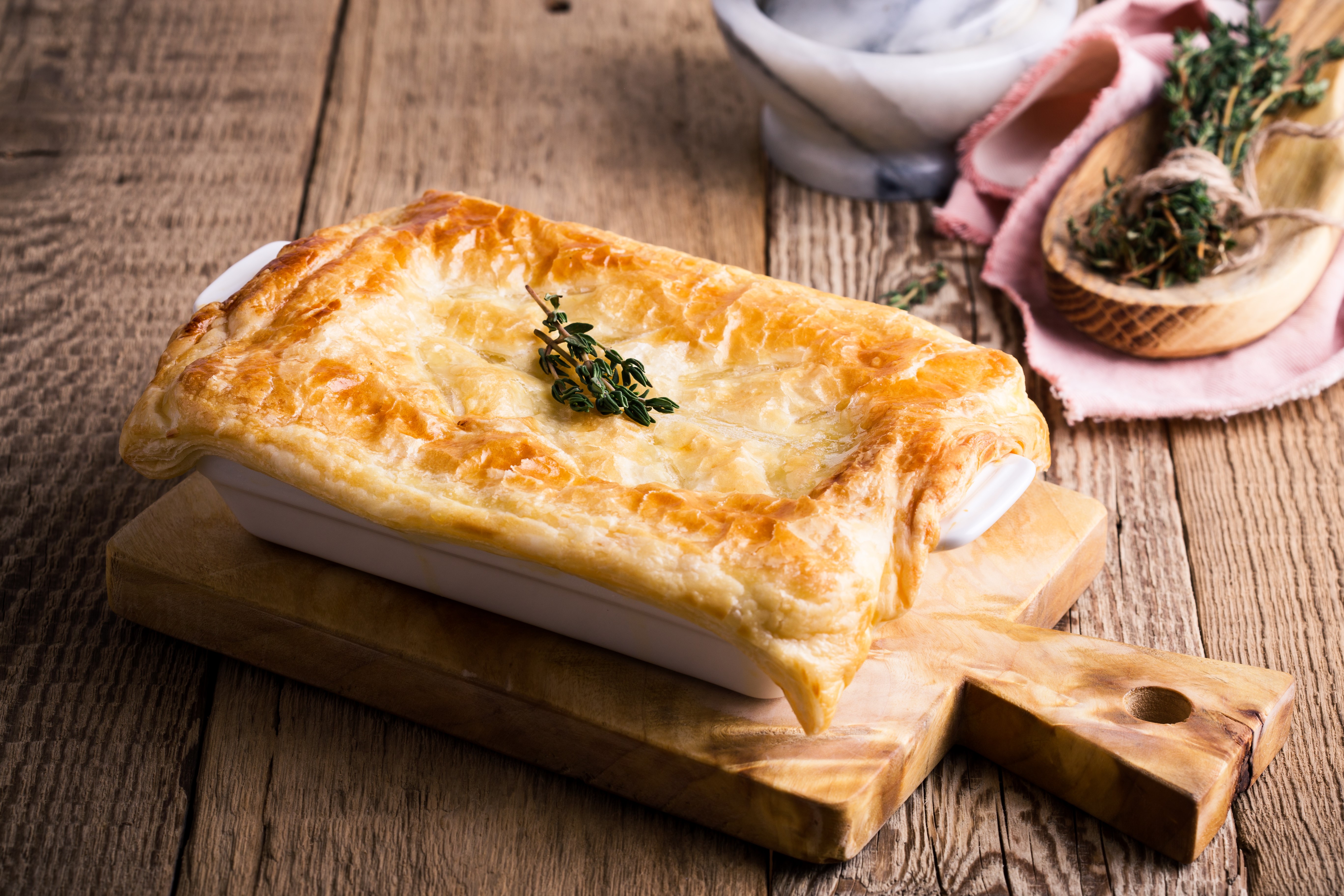 It's getting chilly outside, so it's time to start hunting comfort food recipes.  Annetha, our sales expert and all round favourite person has provided her families favourite chicken pie recipe.  Enjoy!
What you'll need - ingredients
1.8kg whole chicken
1 carrot chopped
1 onion chopped
2 bay leaves
2tbs olive oil
80g unsalted butter
2 leeks (pale part only) thinly sliced
1/3 cup (50g) plain flour
1 cup (250ml) thickened cream
2 tsp Dijon mustard
2 tbs chopped tarragon
150g Swiss brown mushrooms sliced
1 egg lightly beaten
Rough Puff Pastry
2 ½ cups (400g) plain flour
250g chilled salted butter chopped
½ cup (120g) sour cream
OR
Frozen puff pastry from the supermarket
Method
Place chicken, onion, carrot and bay leaf in a large saucepan, adding enough water to cover chicken. Bring to a simmer over medium heat, skimming off any impurities to rise to the surface. Reduce heat to low and simmer, partially covered for 1 hour or until chicken is cooked.
Turn off heat and set aside for 30mins. Remove the chicken and strain stock, reserving 1 ½ cups (375ml) stock (freeze remaining stock for another use).
Heat 1tbs oil and half the butter in a deep frying pan over medium heat. Add the leek, season with salt, then reduce heat to medium-low and cook for 5-6 mins until softened. Add flour and cook, stirring, for 1 min to coat leek, then add reserved 1 ½ cups of chicken stock. Cook, stirring, for a further 2-3 mins until thickened. Add cream, mustard and tarragon and stir to combine. Season and set aside.
In a separate frying pan, melt remaining 40g butter over medium-high heat. Add mushrooms and cook, stirring for 3-4 mins until softened. Shred the chicken, discarding skin and bones, add leek mixture with mushrooms.
Cook, then chill until ready to use.
Now, you could make the pastry from scratch by dicing the butter, then pulsing with the flour in a food processor until the mixture resembles fine breadcrumbs. Add the sour cream and continue to pulse until the dough starts to incorporate into a ball. Wrap the dough in plastic film and refrigerate for 20 minutes.
Roll the chilled pastry out to 5mm thickness and carefully place on top of the pie.
Or you could do what Annetha does and uses frozen puff pastry.  It's a lot quicker, taste just as good and saves time when you're a busy mum.
Preheat the oven to 180 degrees. Grease a 3cm deep, 26cmx30cm baking dish.
Spoon pie mixture into the baking dish, lay pastry on top and brush with egg white wash.
Cook for 45-50 minutes, until the pastry is golden brown and everything has been cooked properly