October 2020 |
Events & Local Area
We can see clearly now at Manor Lakes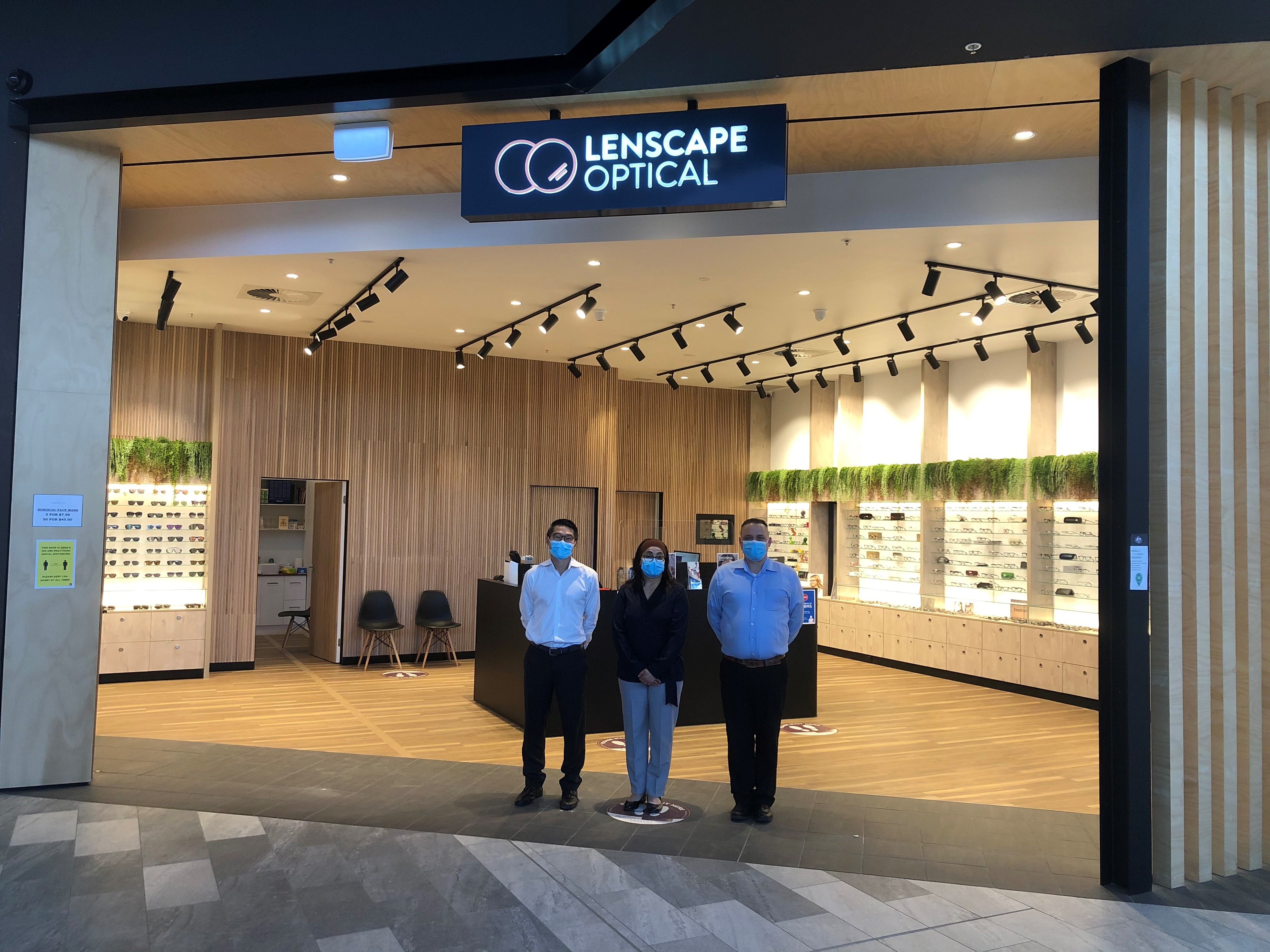 You will find the solution to foggy glasses when wearing a mask and perfect vision for your future at Lenscape Optical! Left to right: Kuong (optometrist), with Amal and Paul, optical dispensers.
Local business is at the heart of every community and we are incredibly fortunate to have so many great local businesses, services and organisations at Manor Lakes!
Now, more than ever, we need to support our local enterprises, so each month we are going to profile one of the terrific ventures operating in our estate.
This month, we shine a light on Lenscape Optical and talk to Director, Vincent Lam…
When did Lenscape Optical open in Manor Lakes Central?
Lenscape Optical opened in late June 2020, in the middle of the pandemic! Although the timing has been very difficult, we've been preparing to open the business in the new development of Manor Lakes Central since the middle of last year.
Number of employees?
Three. The practice is spear headed by a very passionate optometrist, Kuong Chang, who is a co-director of the business. Kuang has also been teaching at the optometry college in Carlton for over ten years and has been a guest lecturer to the second year Doctor of Optometry students at the University of Melbourne for eight years.
Amal and Paul are our friendly optical dispensers.
How have COVID-19 restrictions changed the way you operate?
We are limited to treating emergency cases only at the moment, but we encourage anyone with any concerns at all to reach out. Our store is open from 9.00am-5.30pm Monday to Saturday. We are always happy to answer questions over the phone: 9974 1670, and we have a chat function on our website – ask anything and one of our optometrists will usually respond within a couple of minutes.
Safety in store is paramount. We have implemented a COVID Safe Plan which includes spraying disinfectant and wiping down surfaces regularly, cleaning all frames patients try on before returning them to the display, ensuring patients and staff use sanitiser regularly and when they first come into the store, and scheduling patient appointments to allow time to clean all testing equipment and the testing room thoroughly between patients.
What is something people probably won't know about Lenscape Optical? 
We have the solution to foggy glasses when wearing a mask!
Actually, we have a number of anti-fog supplies to help people overcome the problem of foggy glasses and we are currently offering free anti-fog coating with every new pair of glasses.
We also love the footy and really enjoy interacting with our community. Come in anytime to have a chat with any of our staff, whether it's about the footy or if you need your glasses adjusted. We are always more than happy to help. 
What can people find at Lenscape Optical that they won't find anywhere else?
As far as we know, Lenscape Optical is the only optometrist in Manor Lakes.
Patient care is first and foremost our priority. It's all about making sure our patients receive tailored eye care that will provide the most accurate vision assessment. As well as providing custom solutions that protect our patients' eyes and vision in the long term, we want each of them to walk out having a better understanding of how their eye works, not just their vision rating.
We also have the lastest technology (OCT 3D scans) to aid in detecting the early onset of eye conditions and diseases such as macular degeneration, glaucoma and diabetic retinopathy.
What are your 3 favourite things about Manor Lakes?
The community spirit
The open space
The lake
Be sure to visit Lenscape Optical at Manor Lakes Central or online at lenscapeoptical.com.au to get a perfect vision of your future!