March 2020 |
Meet Your Neighbours
Meet your neighbour Vandana and Somesh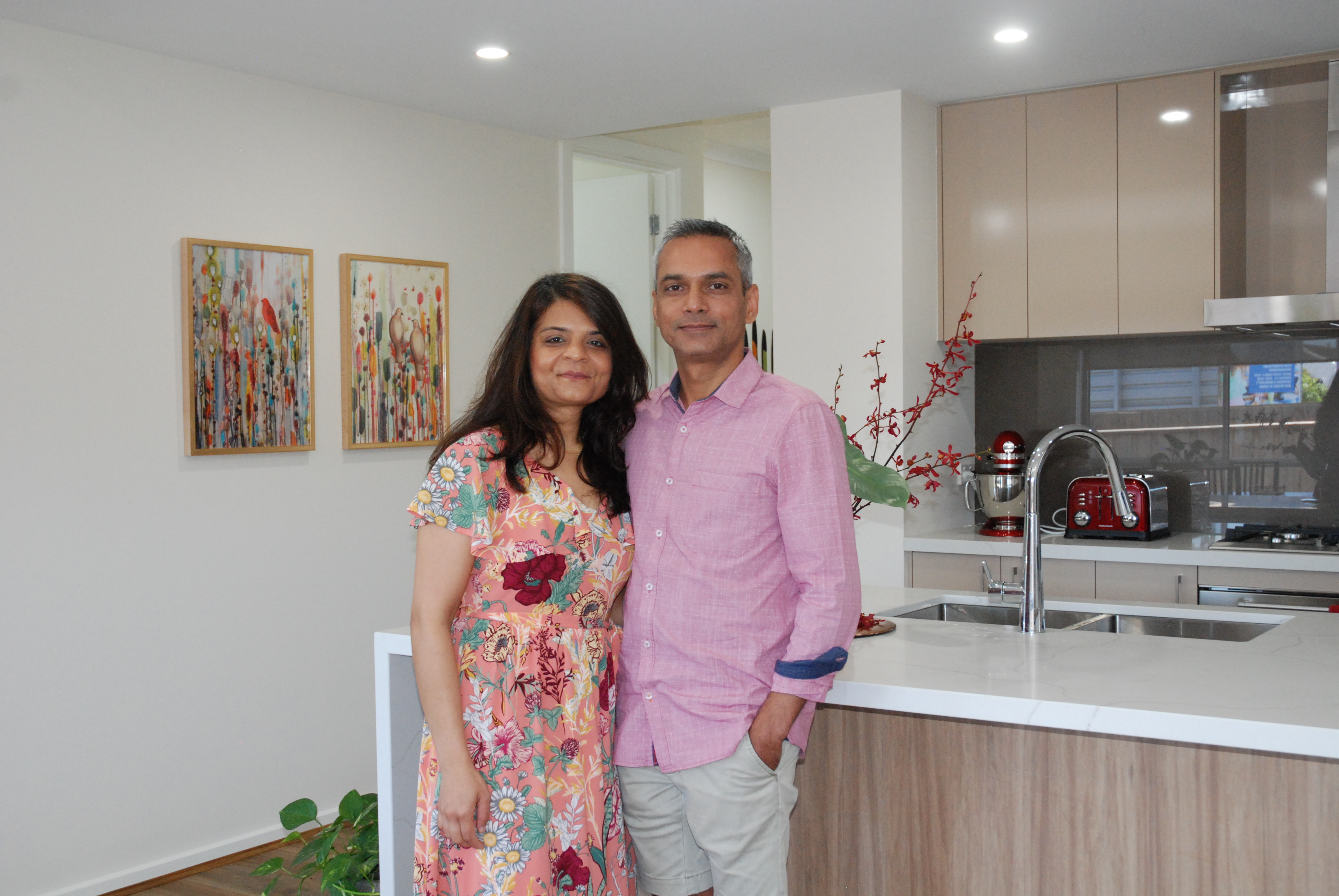 Relocating from interstate can be a challenging process. Aside from the logistics of packing and unpacking seemingly endless boxes, there is the process of finding and establishing yourself within a new community that feels, you know… 'right'.
While Somesh and Vandana Dewett still had to contend with the logistical aspects of moving from Sydney to Melbourne in 2017, they already knew where to look for their new home.
"We had heard so many great things about Manor Lakes from our friends who were living in the estate," said Vandana.
They weren't disappointed!
"Because we were new to Melbourne, we wanted an area that was close to friends, had parks and open space, and access to physical activities and amenities," Vandana continued. "Neither Somesh or myself work locally, so having the train nearby was an advantage."
Initially renting in the area, the Dewetts quickly decided that Manor Lakes' Lakeside precinct was where they wanted to build their dream home. And so began the process of looking for the right block of land.
"We loved living alongside the lake and going for walks, so we knew we wanted our home to be in Lakeside."
Vandana is complimentary of the Manor Lakes sales team and their role in helping them to secure the site for their new home.
"We were very fortunate to be able to purchase in Lakeside at that time. We had established a relationship with the sales team, and they notified us when the right block came along. Everyone was very flexible and supported us throughout the process, which went very smoothly."
When it came to building a dream home, Somesh and Vandana had a clear idea about the design features they wanted to incorporate into their home and opted for a boutique builder, Metronest.
"We have built before, but building a home to live in is different, you end up investing emotions and soul into the home."
 "Somesh and the builder worked together to ensure we worked well within the Estate Guidelines," said Vandana. "Because we were living in Manor Lakes, it was easy to manage the project."
Now living in their spectacular four-bedroom home, they are enjoying sharing the Lakeside lifestyle with family and friends.
"We love entertaining, particularly outdoors. We have lots of light and spacious living areas, but the biggest plus is a fully functional butler's pantry with a complete second kitchen. Our alfresco area also has its own functional catering space. We paid attention to the little things that were important to us," Vandana enthuses.
"Our parents live overseas and come to visit. When they do, they stay with us for several months. They love living Lakeside for the same reasons we do – the beautiful open outdoor spaces."
"It is the people that make the community. You want to live where you feel you belong. That's why we live in Manor Lakes."