February 2022 |
Meet Your Neighbours
Manor Lakes has always felt like home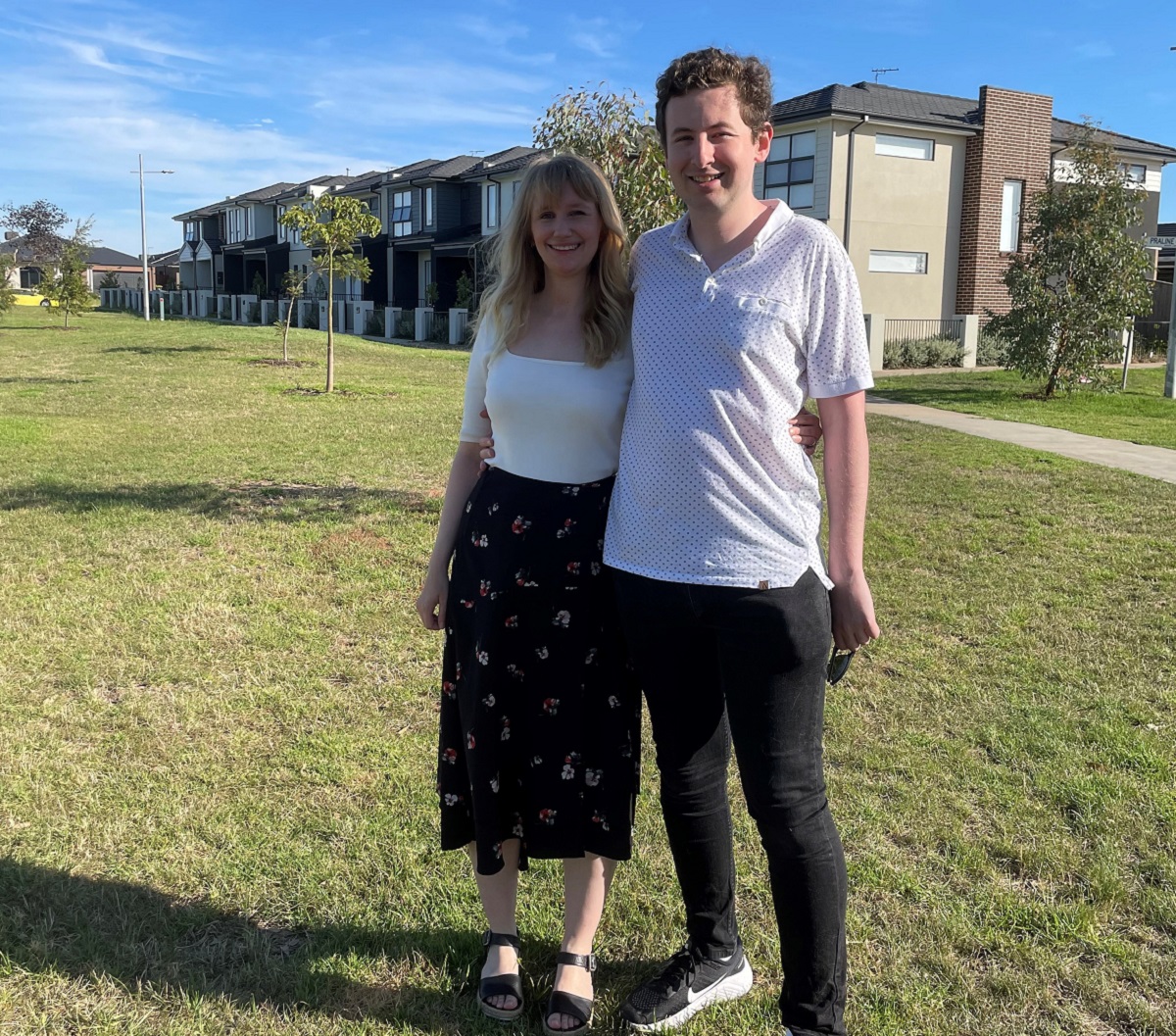 To Amanda and Daniel Manor Lakes has always felt like home!
After growing up in Manor Lakes and then moving closer to the city for a short time, when it came time to think about buying their first home, Amanda and Daniel knew Manor Lakes was a great option.
With family and friends already in the area, and knowing the abundance of established facilities readily available right at their doorstep, Manor Lakes ticked all the boxes.
So, after careful research and weighing up all the factors involved the couple decided a new build was the best option. With the challenges of trying to find suitable land during the 2020 lockdown, the couple were introduced to the idea of Townhome Living at Manor Lakes and quickly grew to love the concept.
We chat with Amanda and Daniel about the process and why Manor Lakes feels even more like home now!
The sales process can sometimes be overwhelming. What were your biggest challenges when purchasing? And how have the Manor Lakes Sales Team helped you and supported you along the way? 
Our biggest challenge was trying to buy a house during Melbourne's 2020 lockdowns. It was difficult to view display homes and find agents to talk to given the demand on the industry from the Homebuilder scheme.
Being first home buyers there were a lot of challenges around processes and procedures but the Sales team, along with our broker/conveyancer helped guide us through the process smoothly.
Having an off the plan turn-key price was also fantastic. It took a lot of the complications out of the building process.
How did you come across the Townhome Living product at Manor Lakes, and what made you decide that it was the right home for you?
We originally weren't sold on the idea of a townhome as we visualised a block of double story houses in our heads and we really wanted our own space. Annetha from the Manor Lakes sales team kindly invited us out to look through a newly built townhome and we were impressed! We loved that it was a single story and that we don't feel like we're attached to another house.
The house was a perfect size for us – and as we had purchased a corner home it came with two outdoor areas, which was an extra bonus!
When did you move into your home? and what was the first thing you did when you were given the keys!
We moved in towards the end of April 2021. The first thing we did was take some photos for family and friends who were eager to see the house!
What do you love most about the Townhome Living home that you have built?
We love the living/dining area as it feels spacious. One feature that surprised us when we first viewed the townhome was the storage. Each bedroom has generous wardrobes and we love the massive closets in the hallway and garage.
Since moving out of home a few years ago we've been living in apartments so having that extra bedroom, garage space, and outdoor courtyard is great too.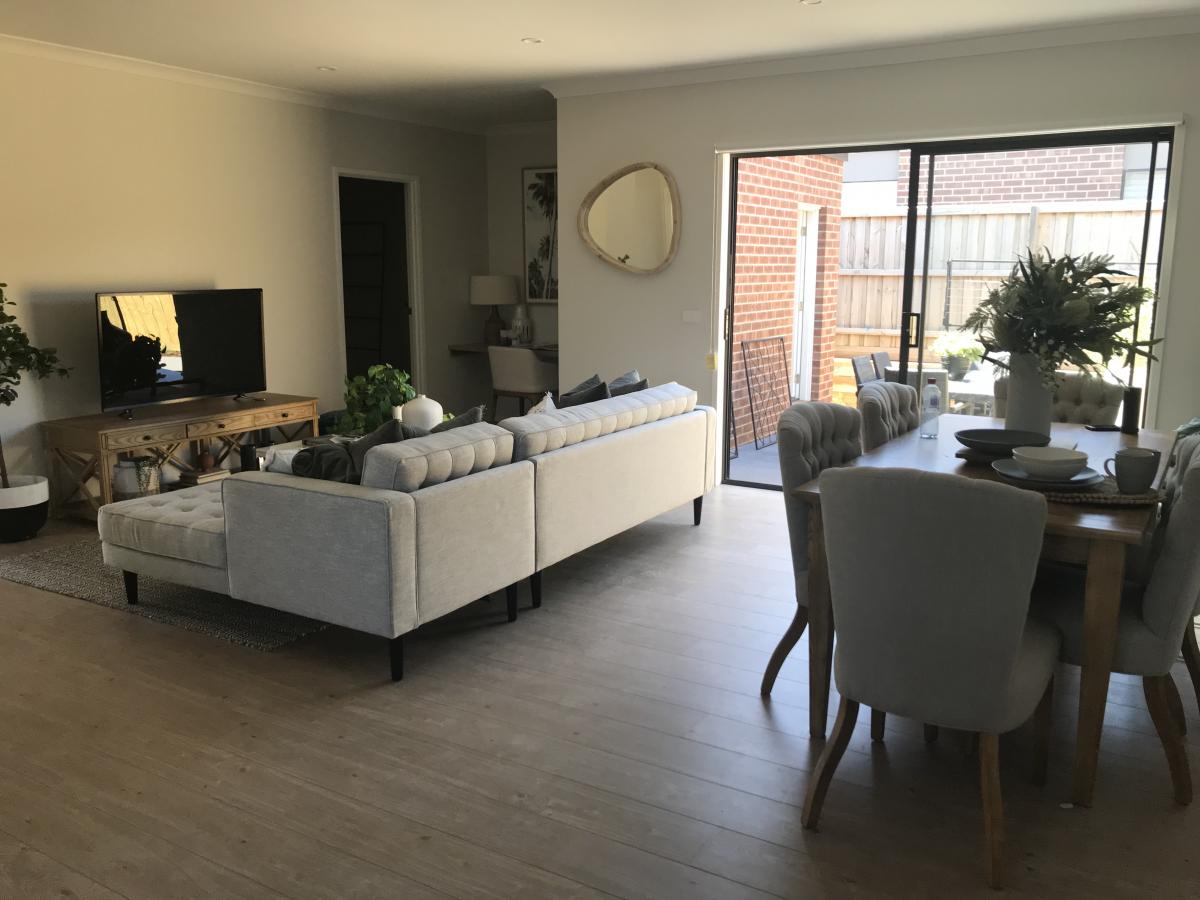 What is your favourite thing about the Manor Lakes community?
We live right next to Lollipop Hill Park and it's been great to have a place so close by to walk every day. There's a real sense of community given the number of young families, which creates a happy and safe environment, and it's good to see all the estate's features being utilised.
Would you recommend Manor Lakes to your friends and family, and what would you tell them? 
Definitely! Whenever we've spoken to friends/family about Manor Lakes we often say that it isn't as far away from the city as you'd expect. Having a V/Line station so close by means that commuting isn't bad at all. On top of that – basically any facility you need is available within the community which is awesome too. It's also really encouraging to see the investment in infrastructure projects like extending Ison road.
Would you recommend Townhome Living to your friends and family?
Absolutely. We've recommended it to friends already. They're great for singles, couples and young families and they feel very reasonably priced given the features and inclusions.