September 2021 |
Meet Your Neighbours
Let's welcome the Shah family to Manor Lakes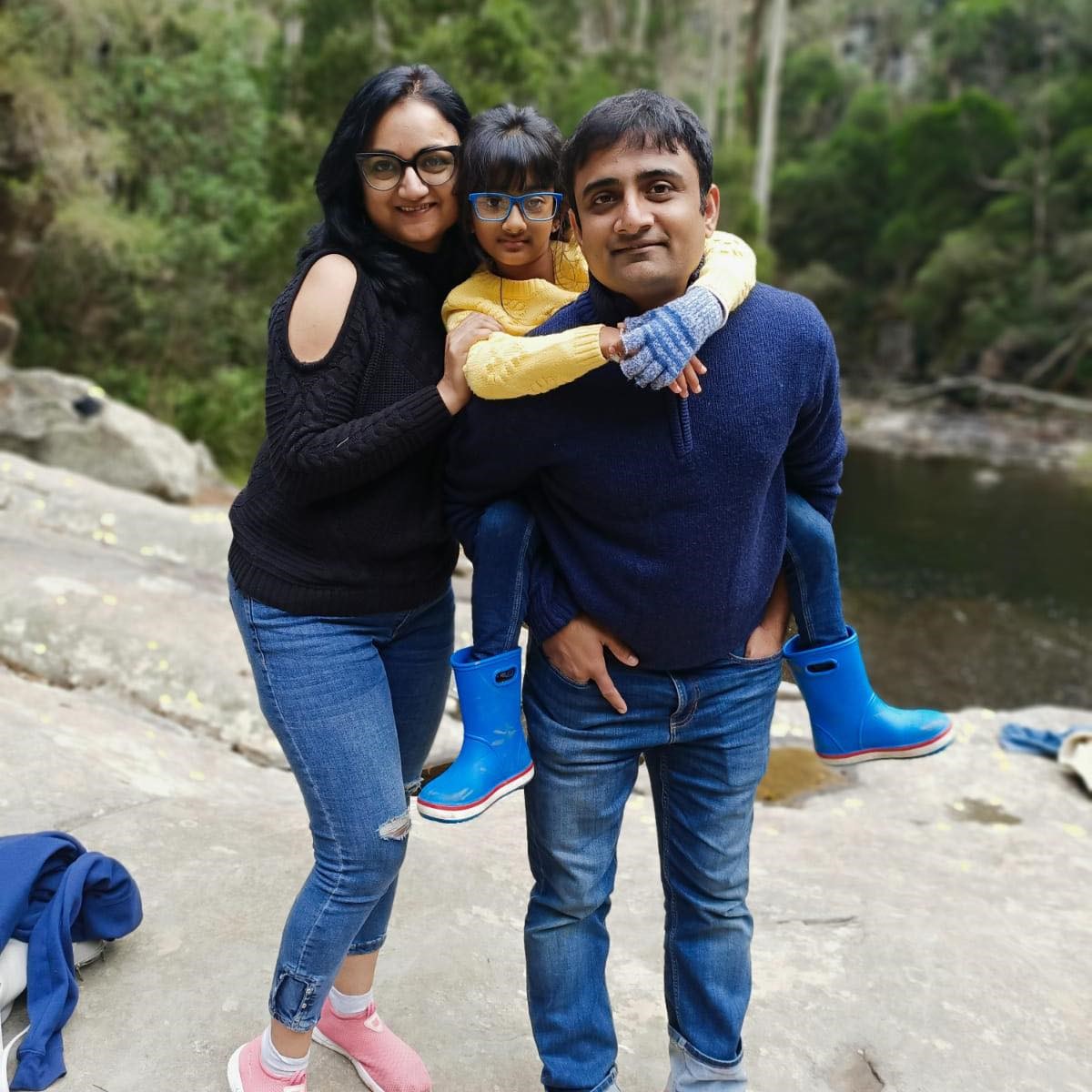 Connecting with nature in Lakeside
Bhaumik and Nisha Shah and daughter Aahana love the connection to nature that comes from establishing a lush, productive garden, which is why they felt Manor Lakes' Lakeside precinct would be the perfect location to build their dream home.
"Gardening helps you to forget all of your pressure and stresses. The colours of the plants are soothing, and growing trees and plants attracts birds, butterflies and other wildlife. It makes you feel part of nature," Bhaumik shares.
When Manor Lakes Sales Consultant Annetha Gunawan contacted them regarding a Lakeside block that had just come back on to the market, they knew that it was 'the one'.
"Although the shape of the block is slightly irregular, it has many advantages," he continues. "It is a corner block that faces the lake on one side and is adjacent to the park on the other side. It is also a large parcel of land so we will have a large plot to build a beautiful garden."
The journey to find the right location for their home has taken the family across the world and over four years to bear fruit.
"We emigrated to Australia four years ago seeking a better life. Australia is rich in diversity - not just cultural diversity but also diversity of opportunities - and Melbourne was voted the most liveable city in the world for many years," Bhaumik explains.
After living in Glen Huntly for one year, the family built their first home in Wyndham Vale, where they have lived for the past three years, becoming very familiar with Manor Lakes during this time.
"Manor Lakes, Lakeside in particular, has so many amenities in close proximity. Manor Lakes Central, schools and the train station are nearby, and the new Ison Road intersection will provide easy access to Princes Highway. Nisha and I both work in the city as software engineers so this access is important."
"We have since discovered there are so many other highly skilled and educated immigrants working in IT who are choosing to live in Manor Lakes. It is great that our children will be growing up together."
An abundance of sporting facilities was another feature that lured the family to Manor Lakes.
"They are developing a new playground in Lakeside and a new cricket ground, which we can't wait to see. There is plenty of space for walking, running, spending time in the garden with the family."
"It is also very close to Eagle Stadium, which has many indoor sporting facilities and where all of us play badminton. In fact, two other members of our badminton team have recently purchased land in Lakeside!"
As they prepare to build their double storey dream home with Carlisle, Bhaumik commends the approach of Manor Lakes Sales Consultants, Annetha and David.
"They are very easy to talk to and openly discuss any issues, ensuring the process of buying land is very straightforward. They send regular updates about any new developments happening in Manor Lakes and I feel I could call them any time."
"We were impressed with the effort that has gone into building a really nice Lakeside community and believe this effort will continue into the future."
Just as they enjoy creating a sanctuary in their garden, Bhaumik and his family are enjoying designing a home that will invoke serenity and a connection to nature.
"The entrance to our home will be a huge void opening into a large open kitchen and dining hall so we can see all of the beautiful Japanese maples and plants in our garden and look out across the lake."
"When we come home, we want it to be incredibly calm and comfortable… like it is the end of our journey and we have reached our destination."
"Manor Lakes really does have everything you need in the one package!"
We look forward to sharing the serenity of Manor Lakes with the Shah family and welcoming them into our community!