September 2020 |
Meet Your Neighbours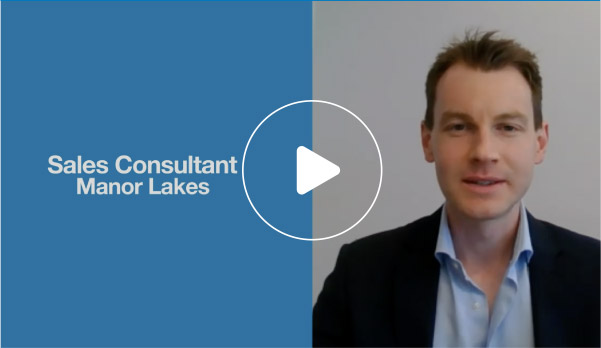 With a passion for property that extends to his personal life, David Hutchinson, Manor Lakes' newest Sales consultant, is well informed about all aspects of buying land and building and has in-depth knowledge of the local area.
"In addition to working across the house and land industry for 11 years, I have bought, built & sold properties myself so I have a complete understanding of applying for finance, buying land & building in estates." David explains.
"I was born and raised in Geelong and built my first home in a Wyndham Vale estate in 2012?" he continues. "I remember shopping at Manor Lakes Central at the time – I really admired the estate and loved the palm trees lining the entrance. To now be working at Manor Lakes, I feel as though I have now come full circle."
According to David, it is the scale of Manor Lakes that makes it so appealing for buyers, regardless of where they are on the property ownership ladder.
"Manor Lakes has everything a customer could possibly want – access to public transport, terrific schools, consistent open space & parks, so many shops and food outlets at Manor Lakes Central, and a great range of amenities for families of all ages."
"It also offers an amazing selection of property at different price points and land sizes, so there is something for every type of buyer"
David cites attitude, humour and action as his top three priorities when helping customers to work our exactly what type of property they are after, and he also prides himself on his after-sales service.
"Having a positive attitude is all about trying to help them, just as a friend would, and establishing that relationship, he continues. "Humour brings levity to the situation. Buying a home is a relatively simple process but going through that process can seem daunting when really it should be fun & exciting! Action speaks for itself - it is being proactive, providing answers and guiding them through every step of the way. I also really enjoy staying in touch with clients and watching their build progress."
David is also thrilled to be working for the Dennis Family Corporation.
"Working at Dennis Family Corporation's (DFC) largest residential project is certainly the highlight of my career to date. I have always admired DFC developments due to their size and quality. DFC also does so much to engage the local community – from hosting events to supporting local community groups through the Community Development Fund."
In addition to his passion for property, David has travelled extensively (hiking up Northern Africa's highest mountain - Mt Toubkal in Morocco – was a highlight) and enjoys exercise and sport (he is a Geelong Cats supporter).
"I'm looking forward to interacting with the residents, don't be surprised if you see me using the outdoor exercise equipment and running laps around the glorious parks & wetlands at Manor Lakes," he concludes.
You can contact David by phoning 0419 369 382 to arrange an online or phone appointment, or pop by the sales office to say hello when COVID-19 restrictions are lifted.