August 2020 |
Meet Your Neighbours
Finding his identity through art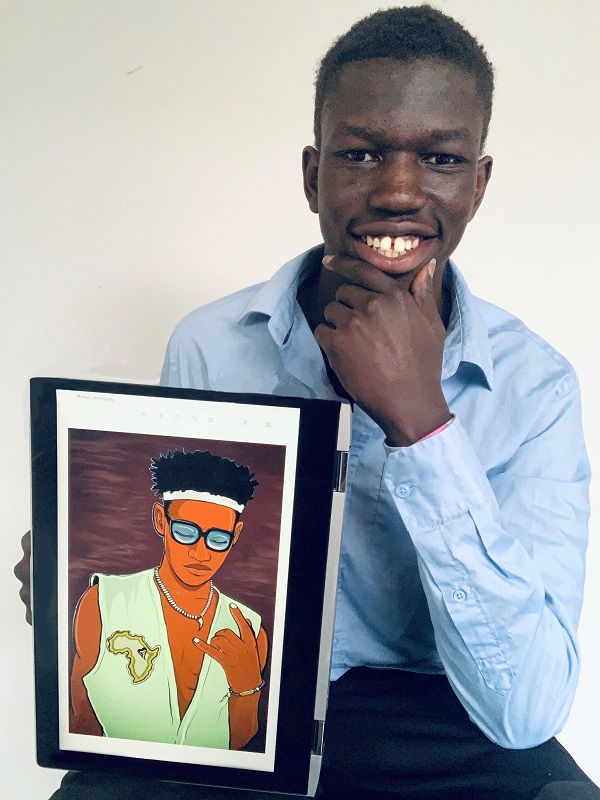 John finding his identity through art
Talented young Manor Lakes artist John Mathet recently won the People's Choice Award at the Wyndham Art Prize for the second successive year. The 19-year-old feels extremely honoured and humbled to have received the $2,500 prize for the second time as a result of this year's repeat success.
"To receive the first award was amazing but to win it again this year was unbelievable," he says.
John's winning entry this year was a digital painting titled I.D.E.N.T.I.T.Y., a work which drew its inspiration from a story from his childhood in South Sudan as the youngest of a family of seven children.
"Before I left to come to Australia, one of my relatives who was wishing me well and passing on his prayers told me to never forget my identity," he explains.
"It was a very strong and powerful statement but being young and excited I didn't fully understand the meaning of what he was saying until a few years ago when I was much older. I now try to teach younger kids about what it actually means to know your identity, to know your culture, your background."
John's personal story is a truly remarkable one.  
At a young age, his large family began to be separated as civil war raged in South Sudan. His father went off to fight and by the time he was seven John had fled to a refugee camp in Kenya with his grandmother and one of his elder brothers Abraham.
After spending four years in the refugee camp, John and Abraham were given the opportunity to find a better future in Australia under a sponsorship arrangement with an uncle and aunt who had relocated to Perth with their children several years earlier.
John and Abraham joined their relatives in Perth in 2014, undertaking an intensive course in English after their arrival in order to be able to speak and write the language.
The following year, a work transfer brought their uncle to Melbourne. The family moved initially to Geelong and later Werribee, before finding a home in the Lollipop Hill precinct at Manor Lakes in late 2017.
"It's a very peaceful place in an area that is growing fast and very diverse," he observes.
John was already attending Manor Lakes College before he moved into the estate and is now completing Year 12 in 2020.
"The school has always been very encouraging of my art," he comments.
John reveals that his passion for art traces back to his childhood in South Sudan.
"I can remember watching one of my older brothers draw film characters and action heroes when I was young. That's how I first started to learn how to draw," he explains.
"When I started watching cartoons like Tom and Jerry on television, I would try to draw them in the sand at school at lunchtime or recess. I would also imitate comics from newspapers. Everything just developed from there."
John's artistic talents have progressed considerably as he has matured. He is now equally adept at working in both conventional and digital mediums.
"My art style is based on painting portraits and capturing facial expressions. Before reaching Year 9 at school I was really just drawing for fun, but now I can actually understand my story and put that into my work. I'm trying to make people look at my art and think about the story that is behind each piece," he says.
"The tools that I work with have changed over years. At first, I was sketching with pencils. Now I can also create digital artwork using Adobe Illustrator on a tablet that I purchased with money from a scholarship that I received last year."
Not only is John following his dreams in art, he is also very active in his local community in his spare time helping others to explore their creativity and discover their potential.
"I was involved with programs at the Manor Lakes Community Learning Centre even before moving into the estate, but more recently I've wanted to expand my reach to an even wider area so I'm now teaching art classes and painting murals at the Wyndham CEC in Werribee," he notes.
"I get to see a lot of passion and talent in working with young kids in my local community and trying to give them opportunities."
John aims to continue to follow his dreams in art, wherever they may lead.
"Art will always be in my life for sure. It's something I want to turn into a career because there's nothing better than doing what you're passionate about," he suggests.